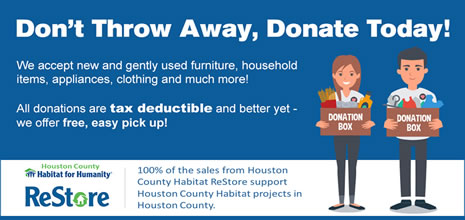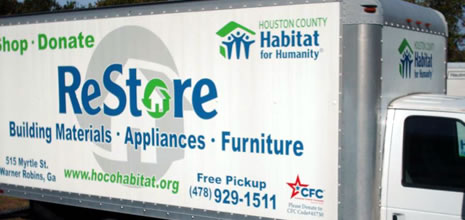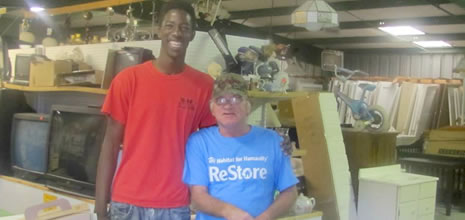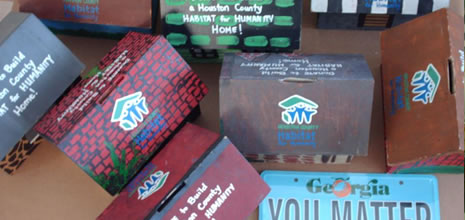 Call 478-929-1511 to schedule a pickup!
You can help Habitat as you prepare for your next home improvement project!
The ReStore is a new and used building materials store operated by Houston County Habitat for Humanity. Local businesses, contractors, or others needing more shelf space donate items to the store, and in turn, we sell the items at a discount rate. This way, everyone wins.
DONATION REQUIREMENTS
We gratefully accept donations of items in good, working condition, such as appliances, furniture, tile, lighting, windows, cabinets, tools, and more. Please click here for a full list of acceptable items. If you are not sure your donation is acceptable, please call us at 478-929-1511 or send us an email at restore@hocohabitat.org and we'll be happy to answer your questions!


Location:
2607 Moody Rd, Warner Robins, GA 31093

Store Hours:
Tuesday - Friday, 10:30am - 4:30pm
Saturday, 9:00am - 3:00pm

Contact:
478-929-1511
restore@hocohabitat.org


The items we accept as donations include:
Appliances - 10 years old or newer
Cabinets and countertops (with cabinets)
Doors - pre-hung or door slabs for exterior or interior; sliding glass doors must have all tracking and no cracked glass or broken seals.
Electrical - switches, breakers, and lighting in working order only.
Flooring - hardwood/parquet, vinyl tile, sheet vinyl, ceramic tile, linoleum, adhesives and caulking.
Furniture – including living room, dining room, bedroom, and office furniture (used mattress or bedding not accepted)
Hardware - nails, screws, hangers, connectors, hand tools and power tools.
Heating - free standing wood stoves, thermostats, fans, new insulation, and vents.
Lumber - minimum length of 4 feet for treated and non-treated wood, trim, and molding, half sheets or larger of particleboard, pressboard, plywood, paneling and other sheet goods.
Paint - new unopened one gallon and five gallon cans. Also used 3 years and newer half cans or more.
Plumbing - sinks, bathtubs, new toilets, complete faucet sets.
Roofing - new shingles, full rolls of roofing material, gutters in full pieces.
Sheet rock - full or half sheets.
Windows - no rot, cracked or fogged glass, shutters, or aluminum; no larger than 5'x6'. (DOUBLE PANED ONLY)
Clothing - clean and in good condition (no stains, holes, or tears)
For items not listed, please contact the ReStore Manager.
REFUSAL POLICIES
ReStores may not take normally accepted items based on the condition of the donation or our current inventory levels. We regret that we cannot accept all donations, and staff reserves the right to refuse items based on product condition or storage limitations.