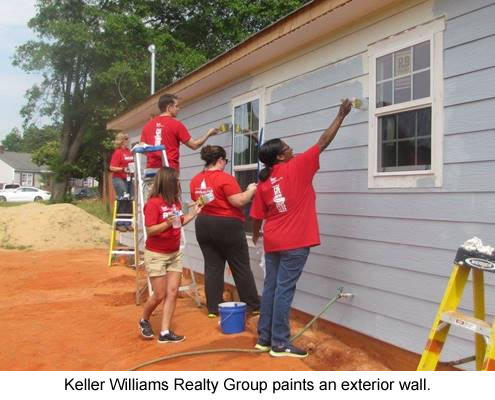 Looking for a team-building opportunity for your employees? Have a group of friends that want to make a difference? Want to get out of the office and improve your community? Team Build Days provide corporations, nonprofit organizations, faith-based groups, social clubs, schools, and many other groups the opportunity to develop their team while giving back. We welcome all groups to join us in furthering our mission of eliminating substandard housing in Houston County.
Team Build Days
Team Build Days are great opportunities for a company or group to involve their employees or members in a positive team-building activity. They provide groups increased visibility in the local community and boost employee morale. No previous construction skills are needed; our staff and Construction Leaders will provide all materials, training, and supervision during your build day. We welcome your help whether you have years of experience or no idea how to swing a hammer!
The construction workday is from 8:00 am to 3:00 pm, and volunteers are asked to make a full-day commitment for onsite construction.
Team builds may be scheduled as single or consecutive days for groups of 10-30 volunteers. If your group is larger than 30 people, please contact our Volunteer Coordinator at volunteer@hocohabitat.org to see if we can accommodate you.
The minimum age to participate in a team build is 16. A 1:5 chaperone to volunteer ratio must be maintained for youth groups with volunteers under the age of 18.
Scheduling & Contact
Team Build Days are available Wednesday through Saturday. To schedule your group for a Team Build Day(s), or to get additional information, please contact our Volunteer Coordinator at (478) 328-3388, Ext 2 or volunteer@hocohabitat.org. Fridays and Saturdays are our most popular build days and fill up quickly, so we recommend requesting these days 3-4 months in advance whenever possible.
Financial Support
Why do we ask your team to donate? HoCo Habitat works to provide affordable housing solutions for families in need and our aim is to build as many homes as we can. Because the number of homes we can build is determined by how much money we raise, our sustainability depends on the vital combination of funds and volunteer labor provided by our supporters. We ask that Team Build groups provide a donation to defray the cost of building materials and enable us to continue to build homes and serve families. 100% of your donation goes toward building homes that are sold interest-free to low- and moderate-income families in need of affordable housing. Our sponsorship requirements are based on the size of your group and are listed below. If your group is a nonprofit, faith-based, school, government, military, or social group, please contact us to learn more about our nonprofit Team Build requirements.
5 Volunteers - $500/day
10 Volunteers - $1,000/day
15 Volunteers - $1,500/day
20 Volunteers - $2,000/day
25 Volunteers - $2,500/day
30 Volunteers - $3,000/day

Your donation is fully tax deductible. Houston County Habitat for Humanity is an official 501(c)3 nonprofit organization. (Tax ID: 58-1934945).

Fundraising

Many groups raise the funds needed to participate in a build day. Holding fundraising events and linking up to HoCo Habitat's Donate Now page are great ways to get started. We're happy to help support you in meeting your goal and can provide additional fundraising resources and recommendations upon request. Contact our Resource Development Director at development@hocohabitat.org for additional information or call (478) 328-3388, Ext 3

Other Sponsorship Options

If your group, company or organization is interested in partnering at a higher level, you can learn more about our sponsorship categories in our Sponsorships section.